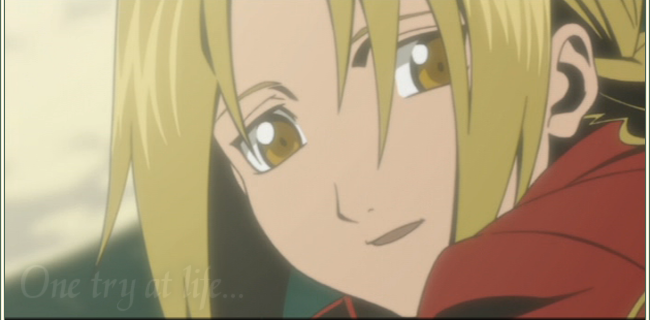 .:ENTRIES:.
GRAAH!!!

Friday
09/16/05@05:25pm

WHO'S SO SMALL THAT EVEN A TODDLER WOULD TOWER OVER HIM!?!!!?!?

Current Mood: angry
.8 tries. | .try.
FUCK YOU

Friday
09/16/05@02:48pm

THANK YOU TO WHOEVER INSTIGATED THE FOOD FIGHT. YOU'VE MADE THE LIVES OF THE STUDENT COUNCIL MEMDERS SOOOO MUCH EASIER. >(


Now if you'll excuse me, I have to go back to preparing the snack bar for the dance.

Or at least we would be if we didn't have to clean the cafeteria before setting up.

Current Mood: annoyed
.16 tries. | .try.
:)

Wednesday
09/14/05@11:50am

I got a letter from Winry.

This is the first time I've heard from her since she left. :)

This cheers me up somewhat...

Current Mood: cheerful
.9 tries. | .try.
Huh.

Tuesday
09/13/05@04:50pm

Looks like most of my peers are getting dates for the dance and all that. They seem to be looking forward to it.

Whatever. I don't care.



(

PrivateCollapse

)



Current Mood: blank
.4 tries. | .try.
Tuesday
09/13/05@10:58am

I forgot to post two days ago so that I could use this icon.

DAMMIT.

Current Mood: disappointed
.2 tries. | .try.
Pff.

Monday
09/05/05@09:28pm

I'm above the school uniform.

Current Mood: awesome
.1 try. | .try.
Uh...

Saturday
09/03/05@09:44pm

What, am I the black sheep of the family now?

Current Mood: surprised
.6 tries. | .try.
Thursday
09/01/05@05:49pm

So who's ready for the party tomorrow?

Current Mood: bored
.2 tries. | .try.
Friday
08/19/05@10:53pm

Well, summer's almost over. I guess it's about time that I come out of my secluded laboratory and get ready for senior year. I came up with a bunch of crap over the past couple of months; some of it is useful, and some of it is not. I didn't do much else besides experiment and read books - and it shows. I think I should shave, not sure that the facial hair really suits me...

Anyway. It's just me, Father, and Prae in the house now. Ling and Mei left because they'd been gone for six months and needed to go back home. It's kind of lonely, but I didn't really realize that when I was cooped up in the lab. I guess that's why Father does it all the fucking time. Dammit, Winry, you've been gone for too long! Hurry up and escape from those freaks, will you? >(

...Well, on a lighter note... end-of-summer party at my house on September 2!! All students are invited, except for...... huh. It seems that during my seclusion, I've completely forgotten who's on my hate list. Ah well. All students are invited, but teachers need to ask special permission first! If I decide that you're awesome, then you can come. Alcohol and illegal substances are NOT allowed in the house. If I catch anyone in posession of anything of the sort, they will not only be kicked out of the party, but I will also ban you from all school functions and/or increase the cost of your prom ticket tenfold and/or hack into the school computers and play around with your transcript. And if the punch ends up being spiked or anything, then I'll make sure all of you have a sucky high school career for the next year. So just don't do it.

Right. That's all.

Current Mood: okay
.7 tries. | .try.
Eh...

Saturday
07/09/05@02:10pm

Sorry I haven't been around lately, there have been other things going on. I don't particularly want to talk about it, but I'm sure some of you can guess what it is.

Yesterday was the last day of school... There's really no reason for me to stay for senior year now, but it's too late for me to decide to graduate this year.

But anyway... I've been spending most of my time lately either reading or in the lab.

I invented a glue-removing substance that works better than anything else on the market. Now I'm working on developing a tape that's stronger and more versatile than duct tape.

Wow. Exciting.

Next week I'm going to start working for the military again, doing research and shit like that.


...It's funny how a few months ago all I wanted was some company, but now I just want these fucking freeloaders to leave so that I can be alone.


EDIT: I'm really not as depressed as I sound. Honest. I'm just being kind of lethargic and... yeah.


EDIT 2: Wait... something happened to Josh? I guess I've been a little too removed from the rest of the world. He's my fucking brother, dammit... details, please?

Current Mood: numb
.5 tries. | .try.
Ehh...

Saturday
06/11/05@01:13am

Yeah... Been spending a lot of time with Winry for the past few days...

I should be getting to bed now. You guys back at home, keep Xiao-Mei away from Prae, please.

Current Mood: tired
.try.
Cell phone post

Tuesday
06/07/05@10:15pm

Wish there was an easier way to write this, but I guess I'll just have to spend about
an hour pushing buttons on my cell phone. And since I'm putting the effort of
writing this, I'd appreciate it if you all read it.

I'm not getting involved in whatever is going on with Josh and Rukia. I have no idea
what the hell is going on, and I have no desire to. Not because I don't care about
what's going on with my brother, but just because I know that getting involved is
just going to cause even more shit to happen, and at the moment Winry needs me, and
I'm going to give her my full attention.

Yeah. I think that's about it. I'd apologize, but frankly... I'm not sorry. I've
made the choice to stay out, and there's no reason for me to feel guilty about it.

And don't even try to explain to me what's going on, because I have a feeling that
the information will not make me very happy. I'd like to keep to my decision to stay
out of it, thanks.
.2 tries. | .try.
...

Tuesday
06/07/05@11:08am

...FUCK. If I'd been able to check my flist earlier...

I'm leaving school now. Probably won't be back today. Dammit, and I walked to school today, I have to walk back home to get my car... I should call Father, too...

Winry, call my cell. Please.

Current Mood: worried
.try.
Update

Monday
06/06/05@09:48pm

Well, haven't updated in a while, the reason for that being that... I've been busy. :/ Been spending most of my free time teaching Mei (finally, considering that she's been here for about a month or so already). Maybe she'll leave by summer vacation, or by the time summer is over, at the latest.

...And apparently she's Ling's half-sister or something, so maybe she'll take him with her. >/

This Rukia stuff? I have no idea what the fuck is going on. I'm not taking sides yet.

And last, but certainly not least... Happy birthday, Winry. :)

Current Mood: apathetic
.2 tries. | .try.
.:Journal:.
Entries
.Userinfo.
.Friends.
.Archive.
.Memories.
.Icons.
.Pictures.
.Awesome.Ed.
.go.20.entries.back.
.go.20.entries.forward.
.:Me:.

.Name.
Edward Elric
.DOB.
02.01.88
.Sign.
Aquarius
.Age.
17
.Blood.Type.
B
.Location.
Mugenjou, MA
.Hair.
Blond
.Eyes.
Gold
.Height.
5'7"
.Favorite.Colors.
Red; Black
.Favorite.Music.
Soft Rock; Classical
.Favorite.Subject.
Chemistry
.Favorite.Authors.
Isaac Asimov; George Orwell; Paulo Coelho

.:Layout:.


Version 2.0 - "One Try"
03.08.05
Made by myself
So don't go underestimating my html skills, got it?